Christmas is fast approaching and we all know what that means. There will be lots of family gatherings, reunions, parties and giving of gifts. For those who would like to spend their Christmas with their family outside the country, I'd say, Hongkong would be the best place for you. You'll be amazed by the diverse contrasts and close proximity of stunning cityscapes and soaring mountains, heritage sites and extensive green countryside.

Hong Kong is truly a magical city for the tourists with much to see and do. Just walking around the city and enjoying its many sights is a pleasure. There is one thing you must be careful of though... the traffic coming from the wrong direction. Being an English territory, they drive on the wrong side of the road (as seen from a Filipino's perspective) and it takes some getting used to. Visiting Hong Kong there are are three major areas to consider: Hong Kong Island, Kowloon, and the New Territory.

For now, I'll just feature some of the attractions which are found in Hong Kong Island alone. Separate blog will be written for the other two. Anyway, here are some of the most popular places in Hong Kong Island that you and your family will definitely enjoy!

Victoria Peak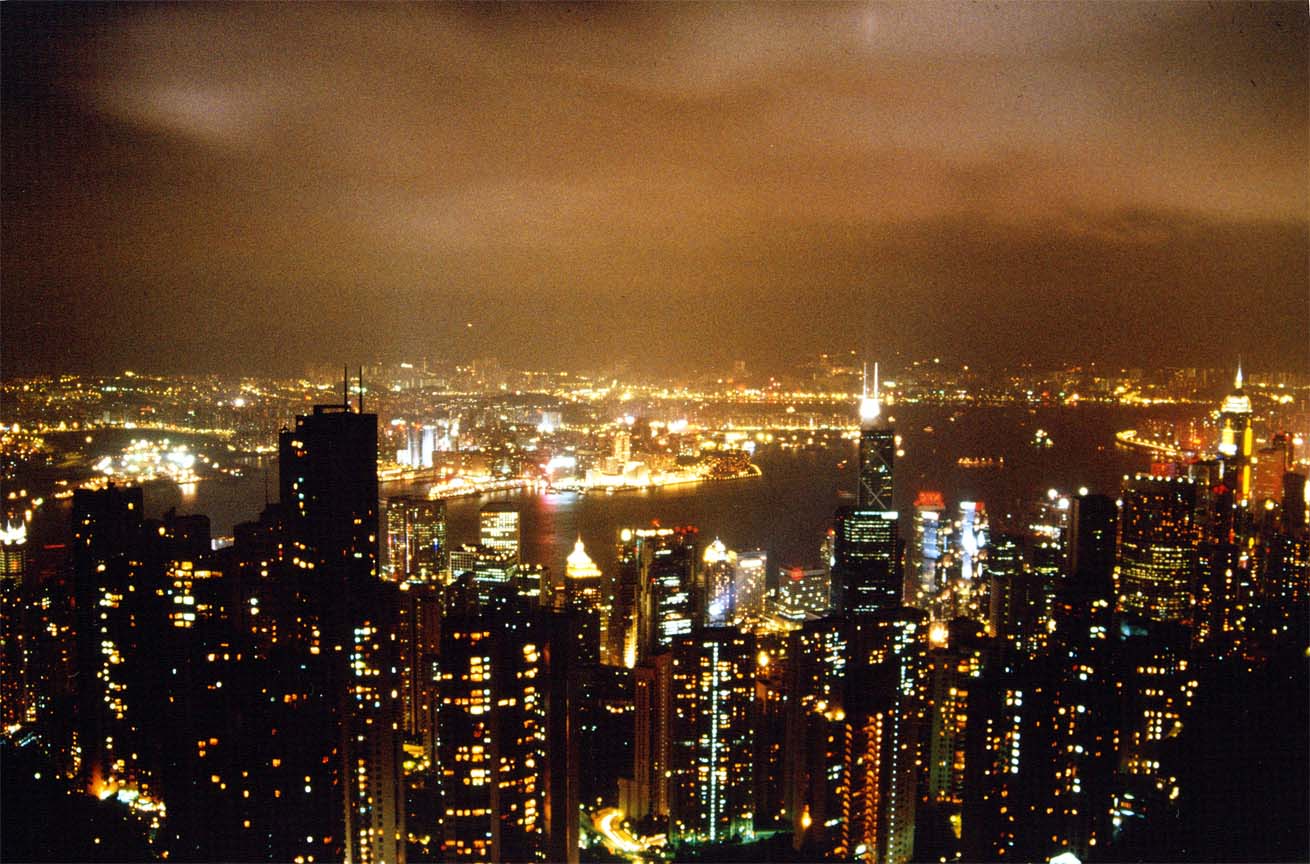 view from Victoria peak
There's a reason why The Peak is one of the most popular attractions in Hong Kong: It is absolutely incredible! Looking down from The Peak you'll be amazed by the spectacular view of the surrounding city skyline, the world-famous Victoria Harbour and Kowloon, towering skyscrapers and peaceful green hillsides.
Western Market
Western Market, renovated in 1991 and converted into a shopping complex, is an Edwardian-style building featuring shops selling arts and crafts and fabric.
Jumbo Kingdom
One of Hong Kong's truly unique attractions is the Jumbo Kingdom. Since its opening in 1976 as the Jumbo Floating Restaurant, it has excelled in the preparation of seafood for discerning diners. The restaurant, designed like a classic Chinese palace, can accommodate up to 2,300 people and is one of the world's largest floating restaurants and a tourist icon.
Ocean Park Hongkong
Opened in 1977, Ocean Park Hong Kong is one of Hong Kong's favourite attractions, featuring rides, exhibits and conservation facilities. Ocean Park is located on the southern side of Hong Kong Island, covering more than 870,000 square metres of land. There are three attraction areas, which are the Lowland, the Headland and Tai Shue Wan. The three areas are connected by a cable car, outdoor escalator which is the second longest in the world and Ocean Express.
A separate blog about Ocean Park Hongkong alone will be posted soon.
Repulse Bay
This crescent-shaped stretch of sand is one of the most beautiful beaches in Hong Kong. The beach features a lifeguard clubhouse built in traditional Chinese style. Its ceiling is decorated with magnificent swirling dragons. Towering twin statues of Kwun Yum and Tin Hau, both protectors of fishermen dominate the picturesque gardens that lead down to the beach.
These are just some of the many attractions found in Hong Kong. Surely you and your family will love it there this Christmas.